Help > Connecting your Computer to your TV
Connecting your Computer to your TV
Connecting your PC (either desktop computer, Mac, or Laptop) to your TV has become an extremely popular requirement, especially with the growth of video streaming by companies such as NetFlixTM which now allow customers to download or stream video directly to one's PC. Connecting your PC to a TV can be a very simple and straight forward task if your TV has the appropriate input connection.
Many newer PCs (desktops, laptops, and Mac's) have state-of-the-art video outputs - including DVI-D, HDMI, and now "DisplayPort" (DP).
The below chart will help determine which cable - or converter box - will be suitable for this task. Our solutions are offers from "best image quality to worst". The solutions are strictly dependant on the video output port that your computer has, and the video input port that your TV has. Don't forget the audio!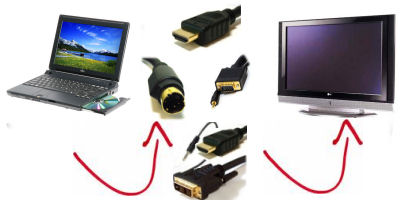 Click the LINK or IMAGE of product on RIGHT to view suggested product. We offer the following possible solutions. To determine which solution will work for your application, you will need to determine the video output port of your computer, and the available video inputs of your television.
Computer (Desktop/Laptop)SourceVideo OUPUT Port
Possible ConnectivityTechnology to Use
Television (LCD, Plasma, or CRT)Video DestinationVideo INPUT Port
HDMI to HDMI: Best Possible Quality 1080p (Video and Audio)
HDMI PortCheck to make sure your computer's HDMI port ALSO outputs audio. If not, you MAY need to also use an optional AUDIO CABLE
HDMI Cables
HDMI PortCheck to make sure your computer's HDMI port ALSO outputs audio. If not, you MAY need to also use an optional AUDIO CABLE
DVI-D to HDMI: Best Possible Quality 1080p (Video Only)
DVI-D Port As DVI technology is VIDEO ONLY technology, the AUDIO from your PC will need to also be connected.
HDMI to DVI-D Cable 3.5mm Audio Cable and Adapters
HDMI PortAlthough HDMI accepts both AUDIO and VIDEO input, because the DVI SOURCE connection only outputs video, you will also need a seperate audio cable.
DVI-D to DVI-D: Best Possible Quality 1080p (Video Only)
DVI-D Port As DVI technology is VIDEO ONLY technology, the AUDIO from your PC will need to also be connected.
DVI-D to DVI-D Cable As DVI technology is VIDEO ONLY technology, the AUDIO from your PC will need to also be connected: 3.5mm Audio Cable and Adapters
DVI-D Port As DVI technology is VIDEO ONLY technology, the AUDIO from your PC will need to also be connected.
Display Port (DP) to HDMI: Best Possible Quality 1080p (Video Only)
Display Port Check to make sure your computer's Display Port ALSO outputs audio. If not, you MAY need to also use an optional AUDIO CABLE
Display Port to HDMI Adapter A standard HDMI cable will also be needed to be connected to the above adapter HDMI Cable
HDMI Port Check to make sure your computer's Display Port ALSO outputs audio. If not, you MAY need to also use an optional AUDIO CABLE
Mini-Display Port (DP) to HDMI: Best Possible Quality 1080p (Video Only)
Mini Display Port (DP) Check to make sure your computer's Mini-Display Port ALSO outputs audio. If not, you MAY need to also use an optional AUDIO CABLE
Mini Display Port to HDMI Adapter A standard HDMI cable will also be needed to be connected to the above adapter HDMI Cable As DVI technology is VIDEO ONLY technology, the AUDIO from your PC will need to also be connected: 3.5mm Audio Cable and Adapters
HDMI Port Check to make sure your computer's Mini-Display Port ALSO outputs audio. If not, you MAY need to also use an optional AUDIO CABLE
Mini-Display Port (DP) to DVI: Best Possible Quality 1080p (Video Only)
Mini Display Port (DP) Check to make sure your computer's Mini-Display Port ALSO outputs audio. If not, you MAY need to also use an optional AUDIO CABLE
Mini Display Port to DVI Adapter A standard DVI-D cable will also be needed to be connected to the above adapter DVI Cable
DVI-D Port
Mini-Display Port (DP) to VGA: Very Good Quality up to 1024i (Video Only)
Mini Display Port (DP) Check to make sure your computer's Mini-Display Port ALSO outputs audio. If not, you MAY need to also use an optional AUDIO CABLE
Mini Display Port to VGA Adapter As VGA technology is VIDEO ONLY technology, the AUDIO from your PC will need to also be connected: 3.5mm Audio Cable and Adapters
VGA Port Check to make sure your computer's Mini-Display Port ALSO outputs audio. If not, you MAY need to also use an optional AUDIO CABLE
VGA Port to VGA: Very Good Quality up to 1024i (Video Only)
VGA Port As VGA technology is VIDEO ONLY technology, the AUDIO from your PC will need to also be connected.
VGA with 3.5mm Audio Combo Cable Above cable is a VGA and 3.5mm Audio Combo Cable. A 3.5mm to RCA Adapter MAY also be needed at the TV end of the connection: 3.5mm to 2 RCA Adapter
VGA Port As VGA technology is VIDEO ONLY technology, the AUDIO from your PC will need to also be connected.
VGA Port to HDMI Port via CONVERTER: Very Good Quality up to 1024i (Video Only)
VGA Port As VGA technology is VIDEO ONLY technology, the AUDIO from your PC will need to also be connected.
VGA to HDMI Converter Cables not included with the above converter. The below 2 cables will need to also be purchased: VGA with 3.5mm Audio Combo Cable Standard HDMI Cable As DVI technology is VIDEO ONLY technology, the AUDIO from your PC will need to also be connected: 3.5mm Audio Cable and Adapters
HDMI Port
VGA Port to DVI-D Port via CONVERTER: Very Good Quality up to 1024i (Video Only)
VGA Port As VGA technology is VIDEO ONLY technology, the AUDIO from your PC will need to also be connected.
VGA to HDMI Converter Cables not included with the above converter. The below 2 cables will need to also be purchased: VGA with 3.5mm Audio Combo Cable HDMI/DVI Combo Cable As DVI technology is VIDEO ONLY technology, the AUDIO from your PC will need to also be connected directly to the TV from your PC: 3.5mm Audio Cable and Adapters
DVI-D Port As DVI-D technology is VIDEO ONLY technology, the AUDIO from your PC will need to also be connected. Tech Note: As the video will be going through a converter, and the audio run directly from your PC to the TV, the resulting audio and video MAY be slightly "out of sync"
VGA Port to Composite or S-Video: Average Quality 320i Max (Video Only)
VGA Port As VGA technology is VIDEO ONLY technology, the AUDIO from your PC will need to also be connected.
VGA to Composite or S-Video Converter As VGA technology is VIDEO ONLY technology, the AUDIO from your PC will need to also be connected directly to the TV from your PC: 3.5mm Audio Cable and Adapters
RCA Composite Video orS-Video