Contact Us > Our Warehouse and Retail Store Location
Our Warehouse and Retail Store Location
HERE
In Person Pickups - If you are in the Minneapolis/St. Paul MN metropolitan area, we invite you to our location to pick up your pre-paid order directly.
Warehouse Hours for Pickups: Monday through Friday 8am to 5pm. Retail store CLOSED
All "website pickup orders" MUST be placed on our website PRIOR to arriving.

Our Retail Store location is adjacent to our warehouse and offers similar business hours. Unfortunately during our current COVID-19 epidemic, we are keeping our retail store CLOSED for the forseeable future. We are instead offer CURB-SIDE touch-less pickup. Please place the WILL-CALL order on our website Monday through Friday 8am to 4:45pm. We are currently closed on Saturdays.

Our warehouse and retail store location is at 6224 Bury Dr, Eden Prairie, MN 55346.
Bury Dr runs off County Rd 62 in the North-east corner of Eden Prairie. County Rd 62 intersects I-494.
Our warehouse is 1 block WEST of Minnetonka Marine, or 2 blocks WEST of Lifetime Fitness off of Baker Rd.

Directions:
From I-494, take Exit 13, and head WEST on Cty 62 for 2 blocks.
Turn SOUTH onto the frontage road for Bury Dr / Carlson Dr / Industrial Dr.
Follow the frontage road for 1 block to Carlson Dr, and head south
Make an immediate left into the building's driveway, and left again into the parking lot.
Our location is the North-West corner of the multi-use white and glassed building
Click HERE for a direct Google Maps link: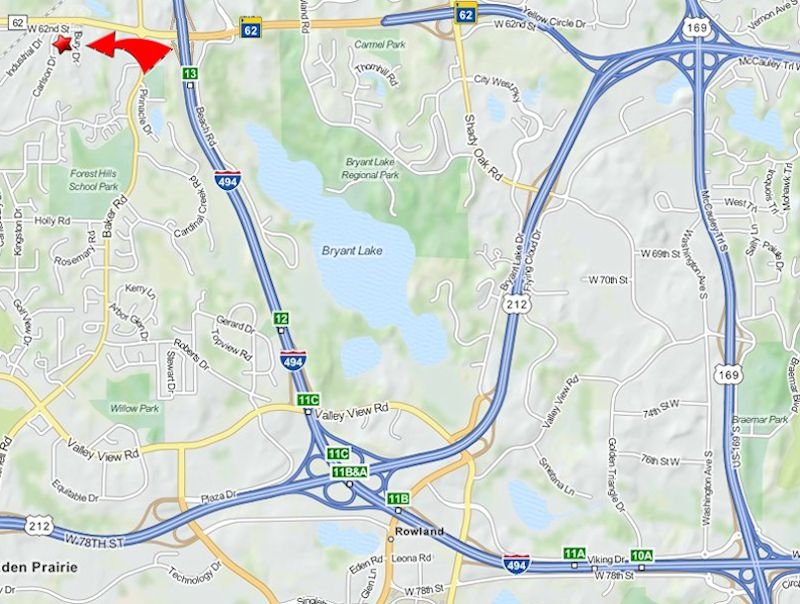 Once on Cty 62, take the frontage road servicing "Bury Dr / Carlson Dr / Industrial Dr", exiting SOUTH. Follow the frontage road (labeled "W 62nd St" on map below), and either take the "back-door" via Carlson Dr, or the "front-door" via Bury Dr as shown below: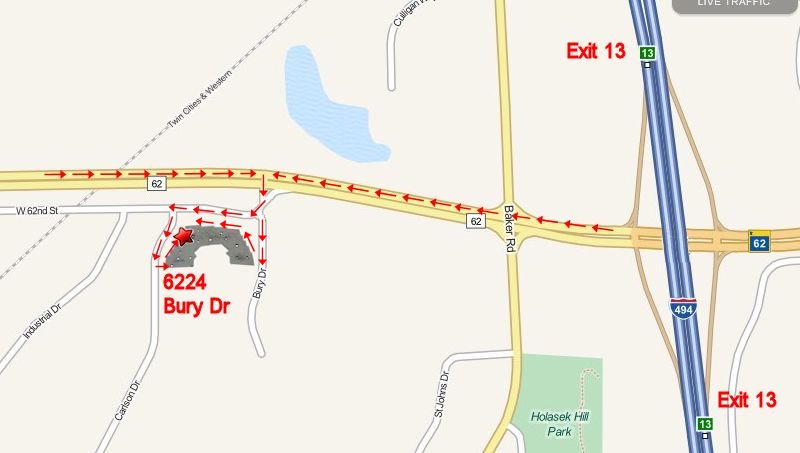 The current local (CST) time is 01:01am
* - Our retail store prices are the SAME as our website prices. However, orders placed on our website offers a slight discount for quantities.